History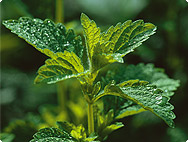 The word Melissa is the abbreviated Middle Latin form of the Greek word melissóphyllon, which means 'bee leaf'.  The name comes from the Greek word mélissa or mélitta meaning bee itself derived from meli meaning honey. Officinalis is New Latin and means 'in use pharmaceutically'.
In antiquity, Lemon Balm was cultivated as a food for bees. Virgil and Pliny reported that, due to its strong aroma, leaves of Lemon Balm were rubbed on new beehives to entice the bees. 
The medical use of Lemon Balm has a 2000year old tradition.   In the 10th century, Arab physicians used the plant to fortify the heart and to treat melancholy. In the Capitularies of Charlemagne the order was given for Lemon Balm to be planted in every cloister garden.
Botanical characteristics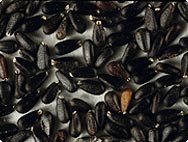 Lemon Balm is a 50cm to 80cm high perennial herb with a four-edged, branching, sparsely-haired stalk. The opposed leaves, whose stalked stems vary in length, are broadly oval to heart-shaped and have an irregular crenate (rounded teeth) or serrate (small, sharp teeth) edge. The dark green upper surface of the leaf is sparsely haired and has very prominent veins.
Pale white labial flowers, which are approximately 1cm in size, grow from the leaf axils in semi-verticils. The aroma of the flowers and crushed leaves is spicy-aromatic and strongly reminiscent of lemons.
Lemon Balm flowers from June to September.
Habitat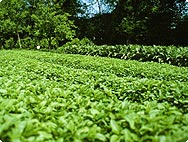 The plant originated in the eastern Mediterranean region and western Asia. Garden cultivation of the plant is popular in Europe. The plant is found growing wild in sunny locations on elevations up to approximately 1000 metres.
Preparation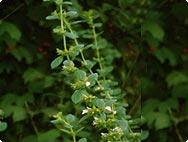 A.Vogel/Bioforce produces an alcohol extract from the fresh tips of Lemon Balm shoots, which are organically grown. Lemon Balm is harvested three to five times per year in the leaf state before buds are formed.
Lemon Balm is very popular as a tea infusion.   As a seasoning it is extremely versatile, particularly in oriental foods and summer beverages. It is also an important ingredient in herb liqueurs such as Chartreuse and Bénédictine and in spirits such as Carmelite.
Lemon Balm leaves are also used as bath additives and in herb pillows. The essential oil is also used medicinally.