---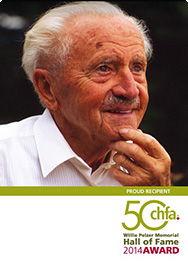 15 september 2014 – Alfred Vogel honoured for his life's work in Canada
The Canadian Health Food Association (CHFA) inducted naturopathy pioneer Alfred Vogel (1902 – 1996) into its gallery of honour in September 2014. The organizers based their decision on the outstanding contribution that Alfred Vogel made in the development of naturopathy over a period of almost 80 years.
---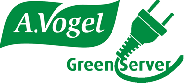 A.Vogel websites powered by sustainably-produced electricity from Rätia Energie
From the lush natural surroundings of Graubünden comes PurePower Graubünden: water, sunlight, wind and bio-mass are the ingredients of this eco-energy. Even the power for the Internet server hosting the A.Vogel/Bioforce websites now comes from this source.
---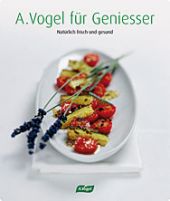 A.Vogel recipe book:
Available in german, french and english
«Naturally fresh & delicious» is the cookbook for all those who want to eat well and healthily.  It contains over 80 recipes, mostly vegetarian, ranging from the simple to the sophisticated, from Swiss to the exotic, based on the diet principles of the Swiss pioneer of natural health, Alfred Vogel (1902-1996).
print