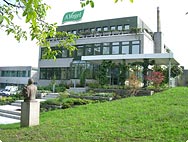 The Bioforce Group
The company operates in over 30 countries around the world.

4 affiliated companies in Germany, France, Finland and Canada.

11 partner companies in Australia, Belgium, Denmark, Great Britain, India, Holland, Norway, Sweden, Spain, South Africa and the USA.

7 exclusive sales agencies in the Baltic States, Italy, New Zealand, Austria, Portugal, Singapore and Slovenia.

Apart from the facilities in Roggwil, there are production plants in Elburg (Holland), Colmar (France), India and South Africa.
print