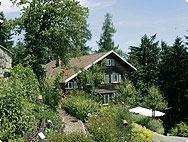 © Copyright 2012
All rights reserved. Text, pictures, graphics, sound, animations, videos and their arrangement on the A.Vogel websites are protected by copyright and other protection legislation. The content of these websites may not be copied, distributed or modified for commercial purposes or made available to third parties. Some A.Vogel websites also contain images that are subject to the copyright of third parties. You may view, print out and copy the contents provided this is for your personal use only, and not for commercial use. Reprinting, inclusion in other online services and reproduction, including storage on optical and electronic data media, is permitted only with the written consent of the legal owner.
General terms and conditions
You can download the General terms and conditions here >>
Verlag A.Vogel AG
Postfach 63
CH-9053 Teufen AR
Tel.: 0041/71/335 66 66
Fax: 0041/71/335 66 88
Publishing management
Clemens Umbricht

Editorial team
Dr. Claudia Rawer
Tino Richter
Clemens Umbricht

E-mail address
info@verlag-avogel.ch
VAT No / Company
ID MWST CHE-103.758.625
Brand protection
Unless otherwise specified, all brand names on A.Vogel websites are protected by brand law. This is particularly the case for A.Vogel trade names, company logos and emblems. The brands and design elements used on our websites are the intellectual property of Verlag A.Vogel AG.
Disclaimer
Verlag A.Vogel is responsible only for its own contents on the avogel.ch website and the microsites it operates. Where links allow access to other websites, Verlag A.Vogel is not responsible for the third-party contents held therein. It does not adopt the third-party contents as its own. Where Verlag A.Vogel is made aware of illegal contents on external websites, it will block the access to these websites immediately.
Disclaimer
Intellectual property
The intellectual property contained in the A.Vogel website, such as copyrights, design rights, etc., are protected. This website confers no licence to use the intellectual property of A.Vogel or third parties.
Data protection
Verlag A.Vogel is delighted by your visit to this website and your interested in health information from A.Vogel. All personal data recorded on the A.Vogel website will be stored and processed exclusively to provide you with personal assistance, to send you information about A.Vogel publications and the "A.Vogel Gesundheits-Nachrichten" magazine, or to provide you with services. Verlag A.Vogel guarantees that your details will be handled with the strictest confidence in accordance with the applicable data protection regulations. In accordance with data protection legislation, you are entitled to know whether we are storing personal data about you and if so, which personal data. You also have the right to put right any incorrect information. To ensure that no information is given to third parties, this information can be requested only in writing and by enclosing a copy of your ID.
print